If you're looking for specific objective or outcome, or have a vision for how you'd like your activity event to be run we can plan, organise and deliver the perfect outdoor activity event for you.
From small breakaway sessions that add interest, to an away day, to complex engagement of a team of hundreds, we can help.  Our experienced staff can deliver a flexible approach to your event, and ensure that everyone who attends meets the objectives.
We have a wealth of experience organising and delivering hundreds of bespoke events to the high standard our clients expect.
Previous events include:
Tata Steel – 120 apprentices on a one day event
Sony – 500 participants on a one day event
Dell EMC – 180 participants on a multi-day event
Get in touch with us and just explain what it is you are looking to achieve and we can talk you though options and highlight the ways we can combine enjoyable outdoor adventures with individual learning, team engagement and trust.
Team Building Courses
All prices shown are per person attending and are ex- VAT.
| | Whole Day | Half Day |
| --- | --- | --- |
| Teams of 4-10 | £70 | £50 |
| Teams of 11-20 | £65 | £45 |
| Teams of 21-30* | £60 | £40 |
*Discounts available for larger groups, contact us to find out more.
Here at Hawk Adventures, we make sure your booking process is as straight forward as possible.
Our ethos is Book It, Receive It, Enjoy It!
When your activity day comes, you'll meet your instructor at or close to your activity venue and head off to enjoy your adventure!
Our post-activity card will let you know where to access your photos at no extra charge, and it also gives the opportunity to leave a review for us and let other people know what your experience with Hawk Adventures was like.
Then it is time to see what else we offer and start planning your next adventure.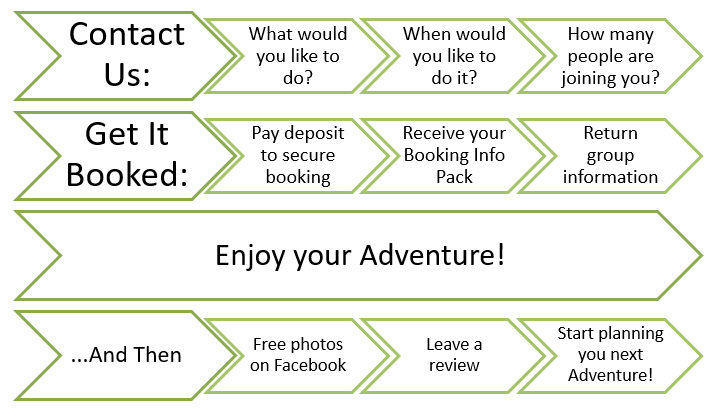 Multi award winning activity provider taking people on adventure since 1990.
Great value – our full days last 7hours, half days for 3.5 hours. The photos we take are yours for Free!
Our instructors are not only great fun to go on an adventure with, they're also highly qualified, experienced and knowledgeable in the activities they deliver.
We are inspected and hold a licence from the Adventure Activities Licencing Authority. Safety is paramount to us and our track record is exemplary.
We provide all the safety equipment you need for our activities, including footwear for Caving and Gorge Walking.
We are flexible and adapt to our customers' needs. We want you to have the experience of a lifetime.