Abseiling in the Brecon Beacons and across South Wales
Are you ready to take on the challenge of descending down a vertical cliff face? Experience the thrilling rush of abseiling and conquer mind over matter on an abseiling adventure with us.
Anyone can enjoy abseiling, it doesn't require you to be super fit as gravity does all the hard work for you. Abseiling is the perfect activity for large groups looking for a fundraising event with some wow factor! The bigger your group size the longer the wait for your go, but you all get to support and cheer on one another.
Abseiling is a superb opportunity to meet the challenge of climbing and abseiling in some of the best scenery that South Wales has to offer. We are ideally situated to provide abseiling experiences in the Brecon Beacons, as well on the coastal cliffs of Gower, Swansea, Carmarthen and Cardiff.
"We booked a half day abseiling session in Brecon and all enjoyed it a lot. There was me, the wife, our 10 year old son and 7 year old daughter with a mix of abilities and confidence. Our instructor was really good and well suited to dealing with getting the most out of the kids. When we're next in Wales we'll definitely be speaking to Hawk about trying some of their other activities." – Francis G.
You'll be taken out by one of our experienced instructors, and with our low participant to instructor ratio you'll be guaranteed a safe and enjoyable adventure that is personalised to you. All safety equipment is provided, as well as training on the day.  As with all of our adventures, details of what to bring and what to wear will be sent out ahead of your activity.
Adventure Activities
| | Whole Day | Half Day |
| --- | --- | --- |
| Small Group (1-3) | £275 | £225 |
| Medium Group (4-10) | £70 pp | £50 pp |
| Large Group (11-20)* | £65 pp | £45 pp |
*Discounts available for larger groups, contact us to find out more.
We try to ensure that booking your Hawk Adventure is a straight forward as possible.
Start by telling us what you are after, by phone or email and we can put a plan together for you.
To confirm your booking we ask for a deposit, then we will send you out a Booking Information Pack that will provide everything you need to know; from where to meet through to what to bring. There will also be Participation forms for each person to fill out and return to us; these include size information for activities where we'll be supplying size specific equipment like boots or wetsuits.
You'll meet your instructor at or close to your activity venue and head off to enjoy your adventure!
Our post activity card will let you know where to access your at no extra charge, it also gives the opportunity to leave a review for us and let other people know what your experience with Hawk Adventures was like
Then it's a time to see what else we offer and start planning your next adventure!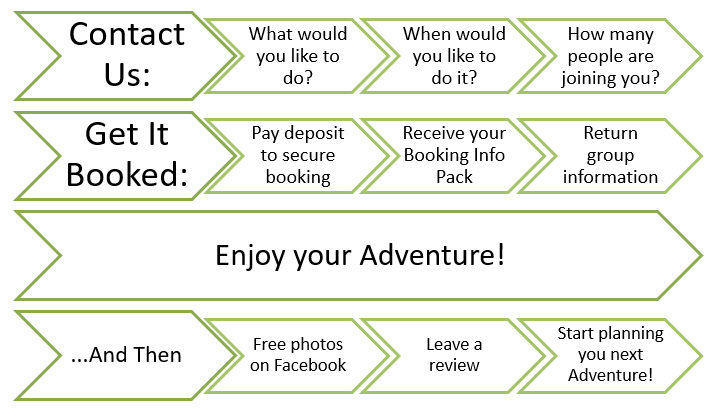 Multi award winning activity provider taking people on adventure since 1990.
Great value – our full days last 7hours, half days for 3.5 hours. The photos we take are yours for Free!
Our instructors are not only great fun to go on an adventure with, they're also highly qualified, experienced and knowledgeable in the activities they deliver.
We are inspected and hold a licence from the Adventure Activities Licencing Authority. Safety is paramount to us and our track record is exemplary.
We provide all the safety equipment you need for our activities, including footwear for Caving and Gorge Walking.
We are flexible and adapt to our customers' needs. We want you to have the experience of a lifetime.